Here's a picture(*) of a veggie burger DW made.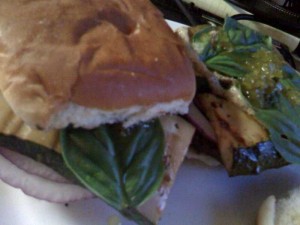 Ingredients are as follows
Portabello mushroom (grilled)
Zucchini (grilled)
Red onion
Mustard
Pickle or relish
Possibly ketchup

The basil leaves are from the garden 🙂 I have to figure out how to bake the burger buns myself. I believe the store bought ones are made of plastic.
(*) I finally found a very easy way to transfer pictures to the blog, so expect more pictures in the future.