Once upon a time, people regularly made things for themselves instead of buying them …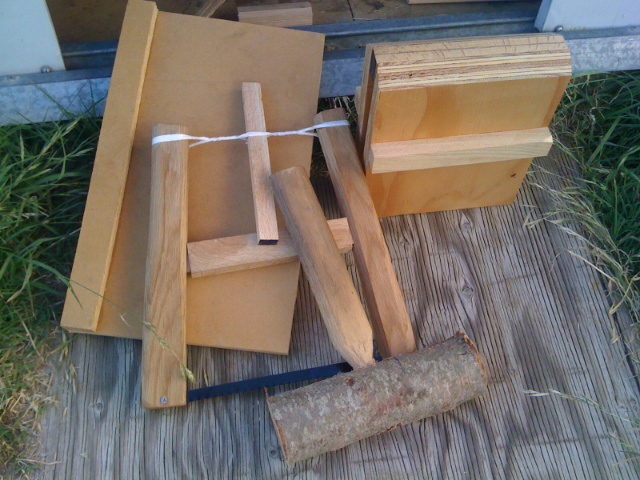 The picture shows a bench hook, a mallet, a saw vise (hard to buy these days) to sharpen my saw(s), and a hacksaw that I made. I plan to make the hacksaw look a little prettier but I couldn't resist putting it together [without shaping up the crossbar] as soon as I had all the parts.
For more tool making fun, see this tool making project book which is where I got most of the inspiration—except the mallet; that was trivial. If only I had knownthought more critically, I wouldn't have bought so many tools. All you need to bootstrap a woodworking workshop is some wood, some flat steel (used saw blades or scrapers), a saw file, and a hacksaw blade, in principle—maybe an even more fundamental bootstrapping is possible. While my initial attempts are kinda ugly, it's just the beginning. Check out Bucky's tool page to see what's possible.
---
Part 2 will include a marking knife and a shoulder plane. The reason I made the hacksaw was to cut up some circular table saw blades to make the cutting irons for these.
Originally posted 2011-05-30 18:40:39.